History
This is a typical boat design of the period, the oldtimer motor yacht was lauched in San Francisco in 1930 as a custom built wooden boat to Californian nobleman Frank M. Ball, by boatbuilder Harold Fish & Company. It is a Raised Deck Express Cruiser style boat of the period with plumb bow and transom stern.
The boat was designed by Naval Architect George Wayland who worked for many famous boatyards including Edwin Monk, Stephens Brothers, Sparkman & Stephens etc. The original boat plans and drawings for - formerly named Skeeter 1930 - are laying in the Museum "San Francisco Maritime National Historical Park". To compare, here is a similar Stephens boat, designed by Wayland, the Northstar II, 1928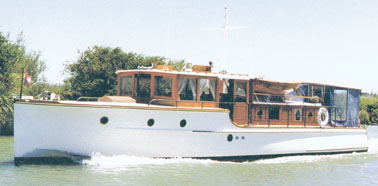 During World War II, from 10/1943 to 04/1945 she was requisitioned by the US War Shipping Administration, registered as boat YP-118. Yard Patrol boats, YP,s were mostly former privately owned vessels, yachts and fishing boats, which following Navy acquisition and outfitting, served during World War II and used mostly as Coastal Patrol Boats in the Pacific. YP,s commonly known a "Yippies" to sailors.
After the War the requisitioned boat was given back and had several different owners. In the 1960's and 70's the owner was the Hollywood Actor Denver Pyle with a STAR on the Walk of Fame, 7083 Hollywood Blvd, who played in hundreds of movies and TV Series with John Wayne, James Stewart, Paul Newman etc. in movies like Bonnie and Clyde, Maverick, Streets of San Francisco, Bonanza, Fury, Tammy, Dukes of Hazzard, Grizzly Adams etc., at that time the boat's name was VIDE III, berthed at Long Beach, Los Angeles.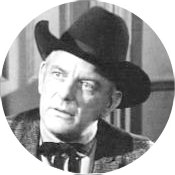 Denver Pyle and his STAR
Now the boat is owned by an European collector,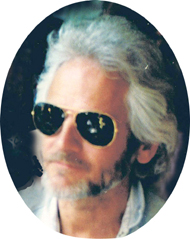 Harry
Papoose is currently located in Venice (Venezia, Venedig), Italy (Italia, Italien).
In the 1950th an 60th the boat joined several 1,000 miles 'predicted log races' in the Pacific from Oregon to Mexico (a predicted log race is similar to a car rally, where you have to reach the target at an exact time - not later or earlier).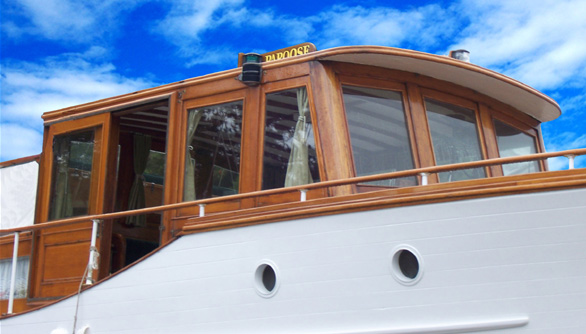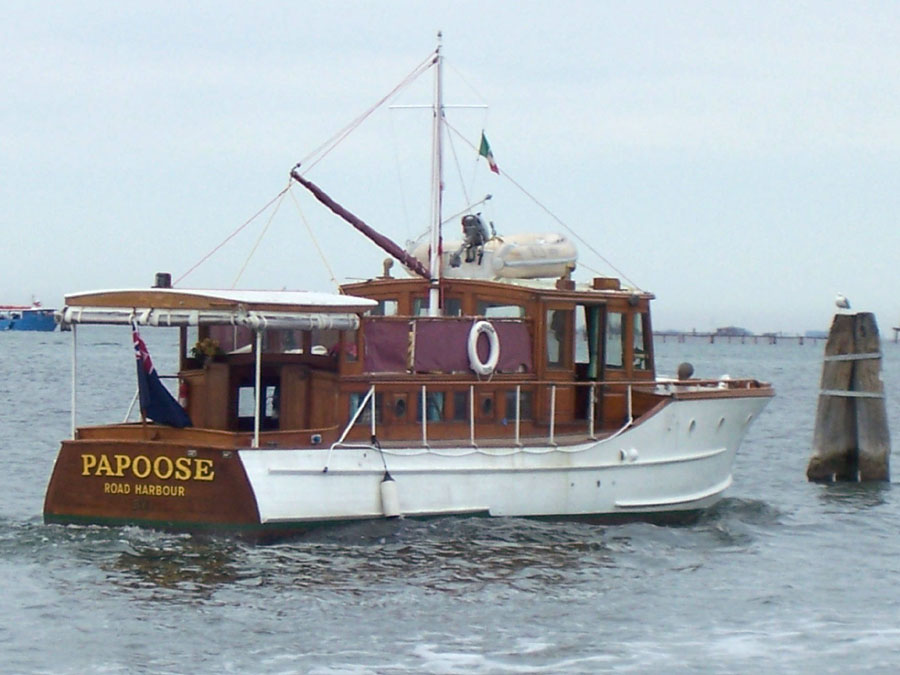 | | |
| --- | --- |
| | Her present name PAPOOSE means: - Actually, the word "papoose" is Indian, and means an Indian baby. When they refer to their babies, the Indians will say "papoose". |
Ports
Home Port and Flag-Registry: Road Harbour, Tortola, British Virgin Islands, Caribbean
Last Port: San Francisco Bay
Recent Port: Venice (Venezia, Venedig) Lagoon, Italy
(on the right: Papoose mast with
Britsh Virgin Islands flag and Italian courtesy flag)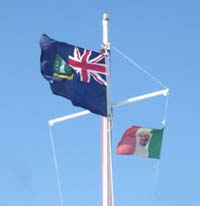 Moving from San Francisco to Venice (Venezia)
She was moved by Truck to the Container Port Oakland, California, from there by Container Vessel through Panama Canal across Atlantic to Genoa, Italy, from there by Truck to Venice (Venezia), Italy
(on the right: loading Container Vessel in San Francisco)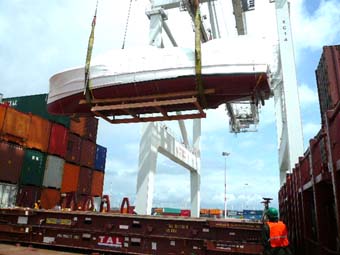 Major Restore
Almost 15 month major restore in 2008 and 2009 in Venice (Venezia, Venedig), Italy.
o renew frames, floors and refastening; renew keelbolts and refasten
o remove, repair, clean and paint three tanks and renew and modernize all plumping from tanks to the motors
o lay ca. 30 sqm (330 sqft) new teakdeck
o caulk more than 300 m (900 feet) planks with cotton and modern sealing stuff
o install modern GPS, deepsounder, TV
o install modern Webasto airheating to all 6 rooms
o paint hull and underwater up to 6 layers
o built an overall cover for summer and winter
o renew steadysail and rigg
o and much more ...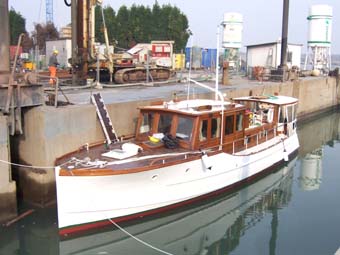 first hour in European Water after major restore, here the dock of the repair-boatyard in Venice
Technical Data
| | |
| --- | --- |
| hull | Port Orford Cedar planks on Magnolia frames |
| deck and superstructure and cabins | solid teak |
| LOA | 14,50 m (47") |
| Beam | 3,68 m (12'1") |
| depth | 1,30 m (4'3") |
| gross tonnage | 23.80 G.R.T |
| net tonnage | 10.86 N.T. |
| engines | twin Chrysler Crown Marine, gasoline, 6.41 (six cylinder; 4.1 litre) |
| horsepower | ca. 120 hp each |
| engines year built | 1950s |
| engines year rebuilt | 2007 |
| tanks, gasoline | three, with 1500 liter capacity (400 US gallons) |
| tanks, fresh water | four |
| battery charger | yes, modern automatic 40A |
| bilge pumps | 4 automatic, 30.000 liters/hour (7000 US gallons) |
| power generator | Honda, 220 V |
| rudders | two |
| anchor windlass, electrical | 1500 watt |
| heavy metal anchor | 30 kg (66 pounds) |
| anchor chain, metal, 50m (165 feet) | 100 kg (220 pounds) |
Interior

| | |
| --- | --- |
| two bathrooms with heads WC, one shower | one electric, one manual WC |
| sleeping room | one double, one single bed |
| saloon | one sofa convertible to doublebed |
| wheelhouse/saloon | one sofa |
| aft deck balkony | space for table and 6 chairs |
| upper deck balkony | space for table and 6 chairs |
| | |
| hot water engine | yes |
| stove and oven | propan gas |
| microwave | yes |
| refrigerator | yes, two |
| | |
| Electronic, Navigation | |
| GPS, color plotter | yes |
| fishfinder, deep sounder | yes |
| VHS DSC radio transm. | yes |
| TV, DVD | yes |
| | |